Lockdown, No 5;
Due to the extension of the latest  lockdown, there will be no service at St John's again this Sunday the 25th July, 2021.
Included below is a letter from Bishop Clarence, written to everyone in the Diocese.   An invitation is given here, for anyone interested in joining a Zoom Service, on the 25th, at 9.30am.  If anyone would like to take part in the worship, please contact the Dean at dean@wangaratta-anglican.org.au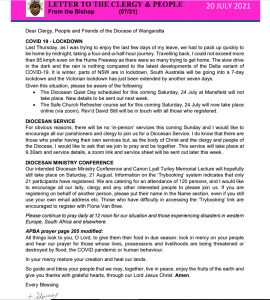 Services at St John's;
June 2021:
Services at St John's have returned basically to normal, bearing in mind current Covid guidelines:
Each Sunday morning at 9.30am. Generally this will be for Eucharist,
but once a month we will be holding Morning Prayer instead.
Visitors must register with the G Code, or add their details on the form provided.
Easing of Restrictions, from 4th June 2021.
Due to the easing of lockdown in Regional Victoria, beginning on 4th June, St John's will be having a service of Morning Prayer, under strict Covid rules, this Sunday, 6th June, 9.30am.    It is envisaged at this stage, that services will continue each Sunday.
---
Latest Covid News- Snap Lockdown for 7 days, from Thursday 27th May, 2021, midnight:
Sept 25th, 2020:
The Bishop has included 2 prayers which may be useful at this time. Also, there is a Simple Table Service, for use at home.
Please ring Fr Graeme for enqiries;  042 993 5000
20200924 Bishop's Letter to the Clergy